Our Successful Overseas Installed Cooling Tower in Thailand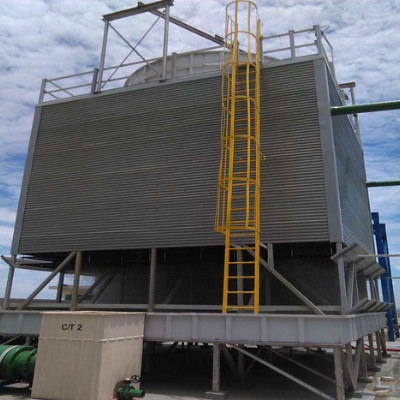 ASSIGNMENT

Supply & Conversion of Bottle Type Counter Flow to Pultruded FRP IDCT of 450 m3/hr ( 1 Cell) (1487 TR)
PARAMETERS

DESIGN VALUES
Capacity
450 m3/hr
HOT WATER TEMPERATURE
41 °C
COLD WATER TEMPERATURE
32 °C
Wet Bulb Temperature
29 °C
RANGE
9 °C
APPROACH
3 °C
COUNTERFLOW COOLING TOWER
For a given space, counterflow towers facilitates more efficient air/water contact due to vertical movement of air through the fill in to the downwards fall of the water droplet distribution.
SELECTION OF FILLS
The Cooling Towers are designed and equipped with efficient Opti-Grid Fills to offer high thermal efficiency and ease of maintenance.
The heat transfer phenomena in cooling tower depends on the efficiency of contact between air and water flowing through the tower, which indicates that the fill selection is a very critical step to achieve the best thermal performance for a given water chemistry and design condition.
To optimise the cost and performance our designers have selected Opti-grid splash fills which can be suspended on wires and hence requires no additional support structures to be added.
OPTI GRID FILLS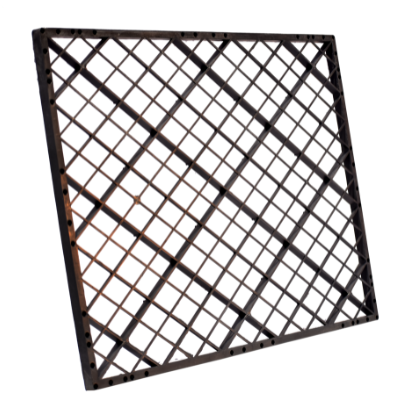 PERFORMANCE IMPROVEMENT AFTER WITH TRICKLE GRID FILLS

It is observed and recorded that there is an improvement of 4 0C in cold water temperature and approach after the conversion of Cooling Tower. This accomplished excellent thermal performance as per the design condition.
PARAMETERS

BEFORE
After
Capacity
29 °C
29 °C
HOT WATER TEMPERATURE
41 °C
41 °C
COLD WATER TEMPERATURE
36 °C
32 °C
RANGE
5 °C
9 °C
APPROACH
7 °C
3 °C